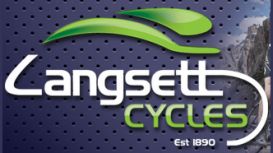 Langsett Cycles is one of the oldest cycle shops in the country. It began trading around 1890 on Langsett Road and moved to the present Infirmary Road premises in 1930 and has been an integral part of cycling in the Yorkshire/Derbyshire area ever since. Back in the 1950's & 60's the famous Langsett of Sheffield Frames were made on the premises. These were treasured possessions for those lucky enough to get their hands on them or who could afford them! They were a common site on the podium at all the top races throughout the country.
During the 1980's Langsett Cycles were at the forefront of the BMX revolution and were certainly responsible for the huge uptake of the sport in the area with its successful race team. To more recent times and the advent of mountain bikes, Langsett Cycles were again at the forefront of the sport with a combination of top brands and riders. We were definitely a force to be reckoned with.
---
Reviews and Ratings
David Atkinson, Sheffield, South Yorkshire
Took my grandsons bike in for repair, very friendly staff, prompt service and very reasonable price.