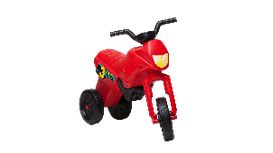 My husband and I were working at the British Embassy in Budapest, Hungary when our son was born in 2007. I became a full-time mum. My son got his first kiddie bike as a present when he was only 7 months old. Every young family in Hungary seemed to have one. He was a bit young for it, but he loved sitting on it and we had to push him around as his feet couldn't reach the floor. When we were out and about in Tunbridge Wells my son always preferred riding his bike to sitting in the pushchair.
When he got tired I could just carry the bike or put it on the pushchair as they're very light. I loved the bike just as much as he did. And whenever we went to the playground other children and their parents were instantly taken with it and asked us where we got it from. So we thought that we should investigate how to get hold of more bikes. We looked at the bike and we found to our biggest surprise that it is made in Hungary! We knew how sturdy and robust the bikes were.
---
Reviews and Ratings
We do not have any reviews about Kiddie Bikes available right now.