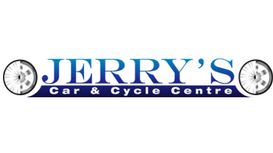 Jerry's car and cycle centre has opened in Sittingbourne since 2009. Having been an employee and a business partner to two other enterprises, Jerry felt it was time he had his own business that reflected his work and great service to his customers.
We are a car and bicycle shop offering unique things that no other shop in the area will do or carry. All of these unique things we do are designed to save you money. There are second hand bikes from Ј25 to suit all ages and sizes to cut down on your travelling expenses. Some people simply cannot afford to buy new. Or they want to try cycling to keep fit after years of car travel. There is a huge range of bicycle & car parts with a fitting service from Ј2. We have extensive knowledge of car and bicycle mechanics so if you have a problem you know it can be put right here. We are backed up with a warehouse facility that carries over Ј1 million worth of parts to fit the majority of cars and bicycles out there today delivered here everyday.
---
Reviews and Ratings
We do not have any reviews about Jerry's Car & Cycle Centre available right now.