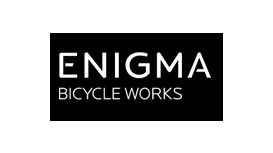 Enigma's team of talented individuals build frames to the highest standard. We work with steel, stainless steel and also that most enigmatic of materials titanium. Our craftsman work to exacting standards with all frame building processes carried out in our workshop from start to finish. In this way we can control every aspect of the build process and ensure the final quality of our product.
This is the first time I've spent any real time with titanium, at just over 2 months of riding, I'm hooked. It's a ride and feeling that you become accustomed too and grow into. Yes, you very occasionally hanker for a lightweight arbon whip - but on 90% of rides, I wouldn't swap the Excel for anything - and that's a lot to say. I would not be exaggerating when I say it to date I cannot fault the Excel whatsoever.
---
Reviews and Ratings
We do not have any reviews about Enigma Titanium available right now.