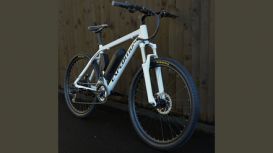 Whether you're 17 or 71 years old, there are extensive benefits to owning and using an electric e bike. Whether you commute to work on a bicycle and want to arrive sweat-free, or you just require some assistance for those knees that aren't as strong as they once were, an electric e bike is great solution. Having one is like gaining an extra pair of legs that help you pedal and make your life a whole lot easier when travelling by bike.
Apart from being great fun to ride, compared to motorcycles and cars they a considerably cheaper method of transportation. If your sick of paying over the odd's for the up keep associated with traditional transportation, then Electric E Bikes are a great solution.
If there are any points relating to electric e bike ownership that are not covered on our site, then please feel free to get in touch with us and we will be more than happy to assist you.
---
Reviews and Ratings
We do not have any reviews about Eco Expedition available right now.